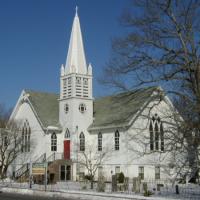 Historical Highlights
Late 1770's - Methodist Reverend Benjamin Abbott preaches in Mays Landing. Around this same time, the first church building (multi-denominational) in Mays Landing was built.

1812 - Land on which our church stands, including an existing meeting house, was given by Richard Wescott, Sr.

Circa 1820's - Records show an organized Methodist Society existed in Mays Landing.

1849 - A new church building was dedicated on the site of our current church.

1872 - The first Minister to reside in our current parsonage moves in.

1888 - A fire on February 4, destroyed the then existing building. Construction of a new building (the currently standing church) was begun that same year, and dedicated February 6, 1889.

1913 - A basement was built under the church. In doing so, the entire building was raised to accommodate the new basement. (Pretty amazing, even by today's standards!)

1925 - The parsonage was "rebuilt" (although exact details are lacking).

1943 - The dogwood trees that grace our church property were planted in memory of four young men from the community. These men (some only teenage boys!) were killed as a result of a local forest fire.

1999 - Purchase of the property behind the church. A former warehouse provided the foundation for our Education and Outreach building.

2004 - Completed Phase One of construction on our Education and Outreach building. The lower floor opened with four classrooms, plus a foyer and restroom facilities. The upper floor is framed out in anticipation of Phase Two construction.

2011 - Removal of the sanctuary pipe organ (with the exception of the facade pipes and console). The organ was a product of the Estey Organ Company, and according to records found on the Internet had been installed circa 1925 (Opus 2416).


Mays Landing's First Church Building

Sometime between 1764 and 1779, a period of 15 years, someone built a Church in Mays Landing on Main Street. This gap may be narrowed a bit by examining the Diary of Philip Vickers Fithian a Presbyterian Minister from Cohansie who visited this area on Sunday, February 5, 1775. On that date, Fithian preached at the home of a Mr. Champion whom he called "a half brother in the cause" indicating Champion was not too enthused about the Revolution which was taking place in America.

Champion is known to have lived on the Westerly side of the Great Egg Harbor River, but not where you would normally expect as his farm was largely inundated when Jeremiah Stull built the Mill Dam here in 1846, creating the pond we now call Lake Lenape. Later Ministers traveling through this area referred to "Brother Champion and Brother Hews" and the latter man is thought to have lived in the area which later became known as Clarktown.

It seems likely if there had been a Church in Mays Landing at the time of Fithian's visit in 1775, he would have preached there rather than in a private home, therefore it is safe to assume the first Church building was erected in Mays Landing between 1775 and 1779. This was probably the building constructed by Col. Wescott which was torn down soon after our first Methodist Church Building was constructed in 1848. The Wescott Free Meeting House was located across the street near where the bank now stands.


When The Dogwoods Bloom

It was March 26, 1943 when a forest fire, caused by sparks thrown from a train engine, began at approximately 3:35 p.m. one mile west of Elwood.

Hours later two Mays Landing boys were dead and two others were injured critically after being caught in the fire on a road known as Dutchtown Road. The other boys also died later after much suffering.

The young boys were Ralph Luderitz, 17, and Carl Luderitz, 16, the sons of Otis and Verna Luderitz and brothers of Mary Booye. Alfred "Pud" Ingersoll, 19, the son of Mr. and Mrs. Harry Ingersoll who was scheduled to go into the army in three days. William Hoover, 27, son of William and Bertha Hoover, and brother of Ethyl Donoflio.

After the fire, Dogwood trees were planted in our church yard in memory of the boys during a special dedication service led by Rev. Harold D. Smock.

When you admire the beautiful Dogwood flowers, pause a moment and remember these young men.